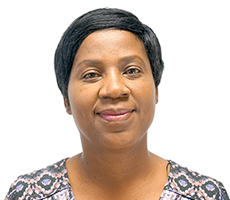 Euphrasia Nsofu is the Administrator at Miracle Life Family Church. She felt called to the ministry as a young girl, and has served the Lord in various capacities almost all her adult life. Passionate about empowering women and reaching those in traditional churches with the truth of the Gospel, she thrives in her role at MLFC.
Euphrasia is a graduate of Rhema Bible Training Center Zambia (2014). With a first degree in Mass Communications from the University of Zambia, she previously worked at Standard Chartered Bank and Zambia Investment Centre.
Euphrasia and her husband of 22 years, Paul, have two teenage sons, Mubanga and Chipo.